Xreviews is a native Mac app that allows you to view and manage reviews for your Apple App Store apps. Just sign in with your App Store Connect API keys, and we'll import customer reviews for all of your apps.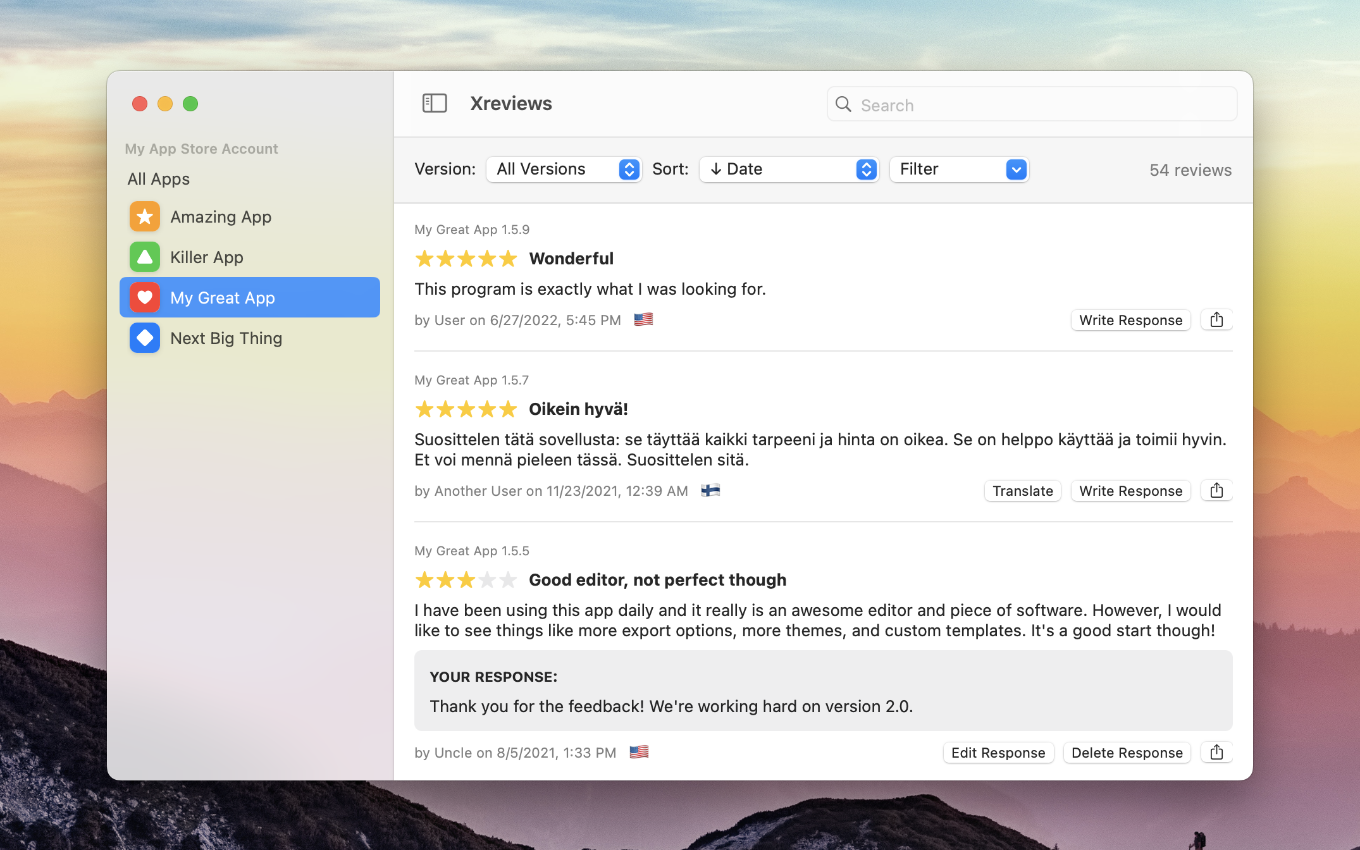 You can search, sort, and filter reviews by keyword, date, rating, and more. Xreviews also lets you respond to App Store reviews directly from the app. You can even filter out reviews from your feed that you already responded to.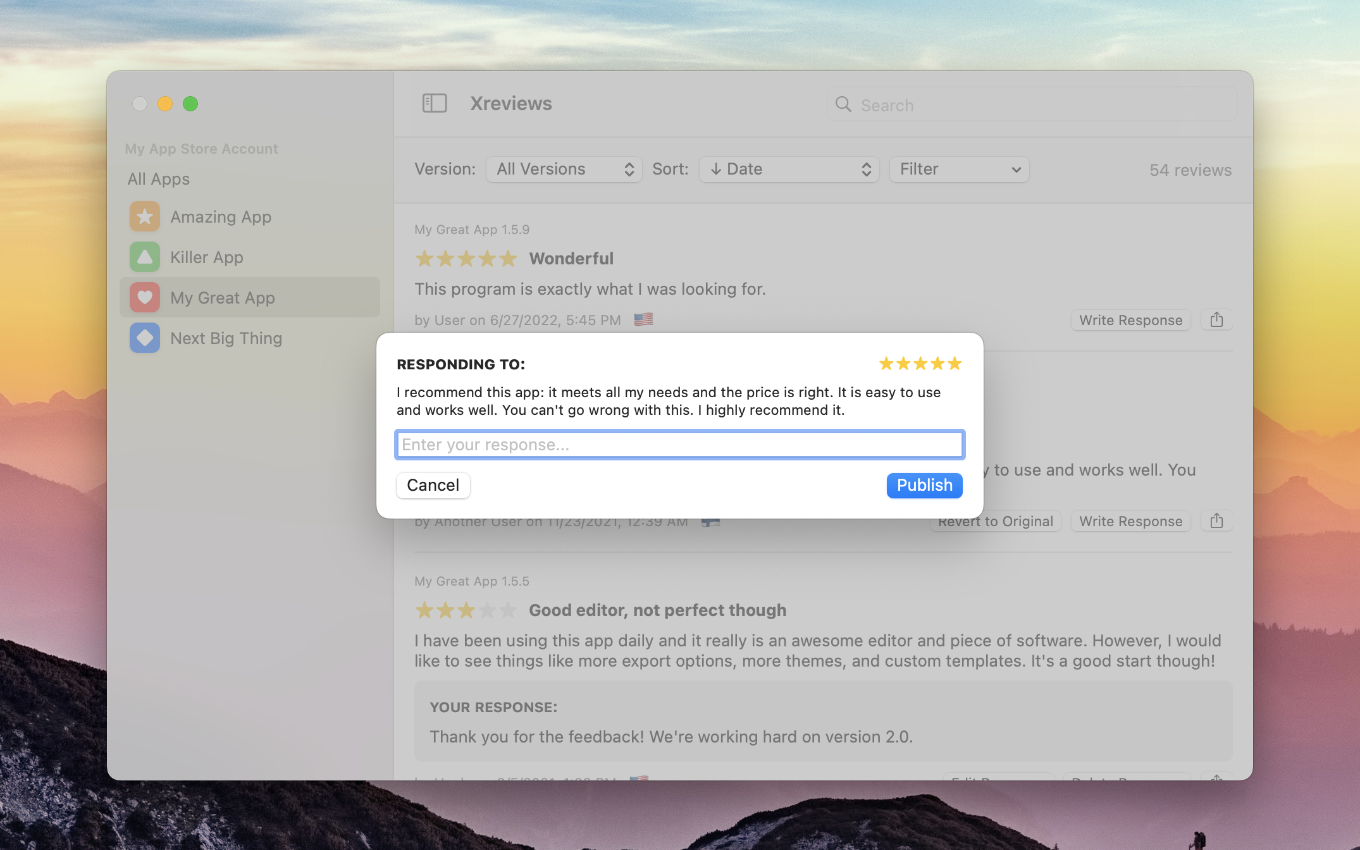 Xreviews is a modern, native macOS app designed for indie developers by indie developers with details that make it a joy to use. For example, our widgets allow you to see the latest app reviews right from Notification Center.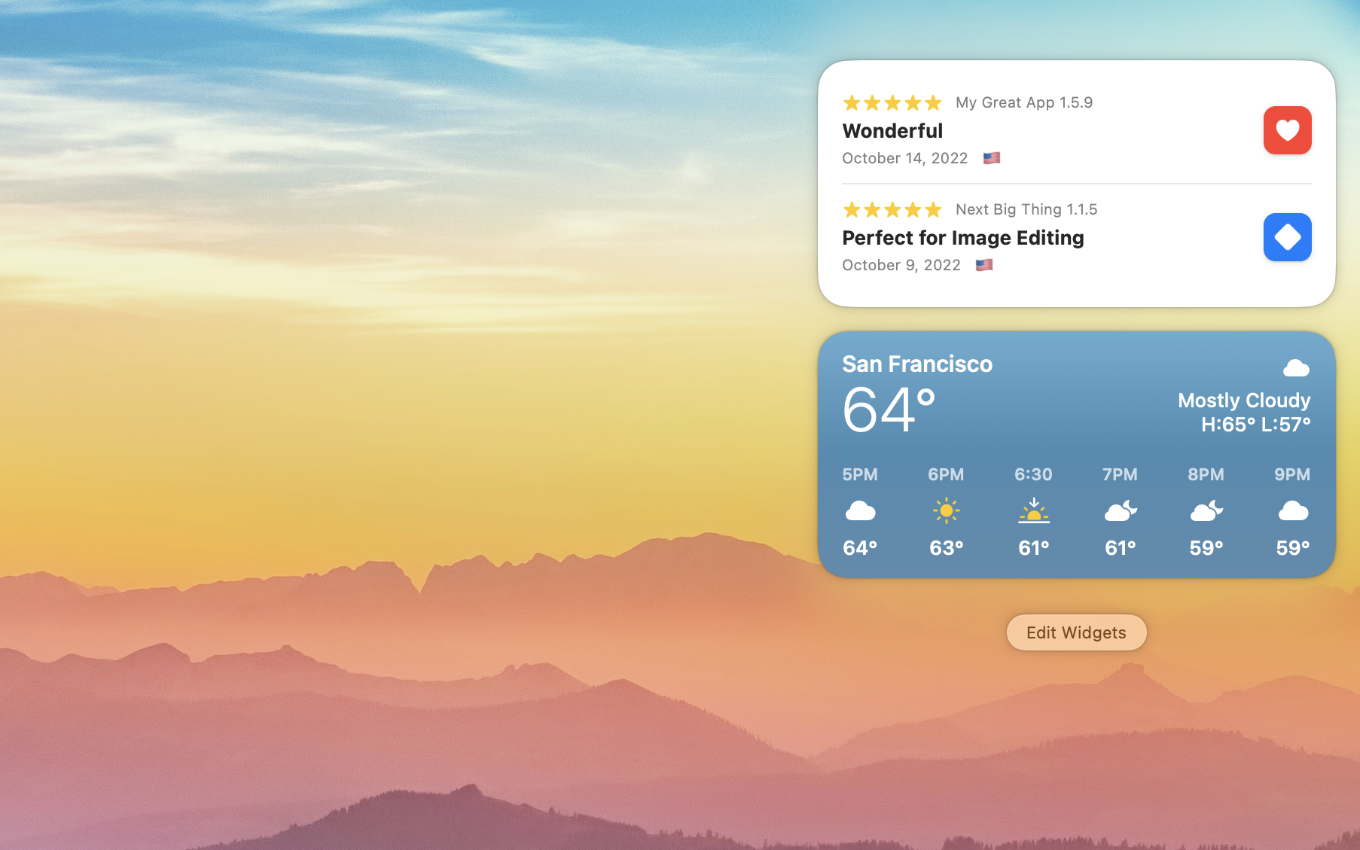 For our power users, Xreviews supports multiple App Store accounts. Have too many apps? You can hide apps for which you don't need to see reviews. And once the initial import completes, you can view all customer reviews offline. Xreviews is the best app review manager for the Mac.
Pricing
We hate subscriptions as much as you do, so our business model is simple: Xreviews is free to use with one app. Beyond that, we have a one-time purchase that costs as much as a cup of coffee in San Francisco. 🌁
We just want to remain self-employed and maintain the development of the app. Thanks for your support. ❤️
All Features


Sharing
Share reviews via AirDrop, Messages, email, and more!


Dark Mode
Use the app in Dark Mode while working at night.


Search
Search review titles and descriptions by typing keywords.


Filter and Sort
Filter reviews by app version or rating. Sort by date, rating, and more.


Country Flags
Country flags make it easy to spot international reviews.


Translation
Translate reviews to your language in one click.


Notifications
Notifications alert you when new reviews have been downloaded.


Badges
Badges draw attention to newly-downloaded reviews.


Widgets
Widgets allow you to see the latest app reviews right from Notification Center.


App Hiding
Hide apps you don't want to see in the sidebar.


Offline
Browse reviews even when you're offline.


Replies
Reply to reviews directly in the app.


Multiple Accounts
Got multiple businesses? Add and manage multiple Apple App Store accounts.


Robust
Xreviews uses the official App Store Connect customerReviews API to fetch reviews.


Secure
Xreviews talks directly to App Store Connect via API keys you have control over. We don't know or care about your App Store account details.


Native App
Xreviews is a native app built using technologies like SwiftUI and Core Data, and it takes full advantage of the power of macOS.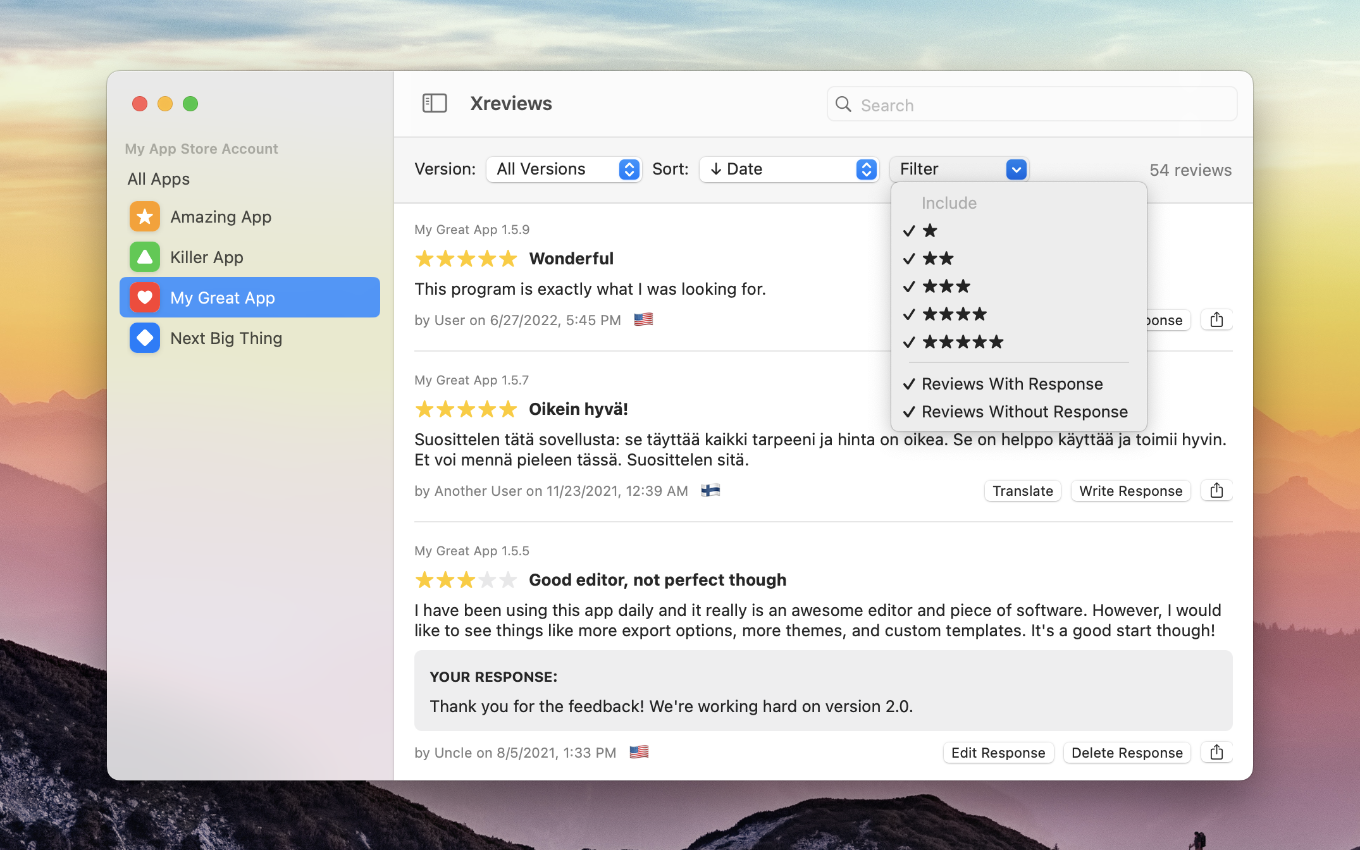 Xreviews is compatible with macOS 14 "Sonoma" on Intel and Apple Silicon Macs.
The minimum system requirement is macOS 13 "Ventura".